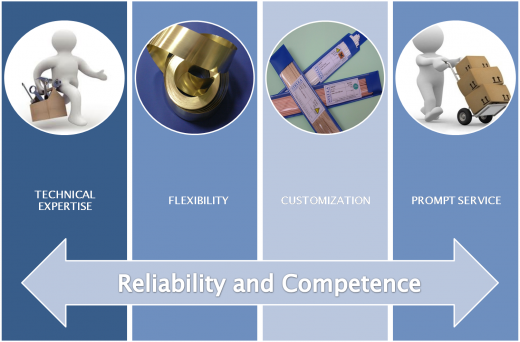 TECHNICAL EXPERTISE
We can assist you in the following areas:
Problem solving

Finding solutions

Cost reduction

Recommendations for brazing consumables and/or equipment

Source of information and documention about brazing
FLEXIBILITY:
Customized shaping and sizing
Our alloys are available in a variety of different make-ups and sizes: from standard forms and sizes to customized shapes and dimensions.
CUSTOMIZATION
Personalized packing and labels
Wide range of packaging, in particular for small quantities

Packing especially designed on customer demand

Labels personalized on customer demand

Brand design service
PROMPT SERVICE
EASY COMMUNICATION: we operate regularly in English, German, French, Spanish and Russian language.
METAL PRICES MONITORING SERVICE: We follow market prices for you to suggest you the right moment to place the order.
DELIVERY SERVICE: Thanks to a capillary net of tested forwarders, we can deliver materials directly in your House.